5 challenges facing manufacturing today
These are challenging times for manufacturers. From ongoing disruption to supply chains and rising costs to an ageing workforce and growing skills gap, manufacturers need cost-effective and smart digital solutions.
To stay competitive in an increasingly challenging market, manufacturers must adapt. Call it Smart Manufacturing or Industry 4.0, manufacturers around the world are harnessing new technologies to drive efficiencies, become more sustainable, and even create new business models.
In this blog post, we look at five challenges facing manufacturers today, and how enhanced information and document management can surface effective solutions.
1. Supply chain visibility
Global supply chains are highly complex, and vulnerable to disruptions. Real-time world events can have a significant negative impact on connectivity, exposing fragilities, and interrupting manufacturing operations. From delayed shipments to a shortage of raw materials, manufacturers need clearer visibility over their supply chains, so they can minimise interruptions and maintain business as usual.
A digital supply chain provides improved oversight, both upstream and downstream. This gives manufacturers the opportunity to react faster to real-time disruptions. It also helps to optimise production lines by leveraging unified data from across the supply chain. Proactive risk management makes it possible to mitigate and even predict disruptions, enabling manufacturers to quickly source alternative suppliers.
To make that happen, it's important to have on-demand instant access to relevant supply chain data and documentation, including contracts. It's here that a streamlined document and contract management solution can make the difference.
2. Skills and knowledge
Manufacturing has an ageing workforce. For example, in the US, nearly half of all manufacturing workers are over 40 years old. As the boomer generation continues to retire, knowledge and experience continues to leave the industry. There is a growing skills gap.
Whilst manufacturing becomes increasingly automated and makes growing use of robotics, there is still a deficit of human talent entering the industry. That's partly due to negative perceptions of manufacturing, and a lack of knowledge and training.
Getting knowledge to where it's needed the most can be made possible through connected devices and standardised process and document management. Employees get instant access to the latest version of important documentation, such as Standard Operating Procedures (SOPs).
They can also access relevant training videos and presentations to complete training or to refresh their learning on the job.
3. Quality assurance
Inferior quality products can result in costly product recalls, loss of customer trust, and even legal action. At the same time, manufacturers also have accountability for internal health and safety procedures. That's why it's so important that they have robust quality management systems (QMS) in place.
For these reasons, everyone involved with a particular production line or machine needs access to the latest SOPs and other relevant documentation to ensure they correctly follow standardised procedures. This helps to mitigate potential safety risks.
Manufacturing is a highly regulated industry. Ensuring organisation-wide compliance with industry standards and statutory regulation means frontline workers need continuous access to the latest information.
Digital document and process management can provide the access and oversight needed for both frontline workers and QA managers. A single pane of glass over your entire manufacturing operations makes it easier to identify and document nonconformities.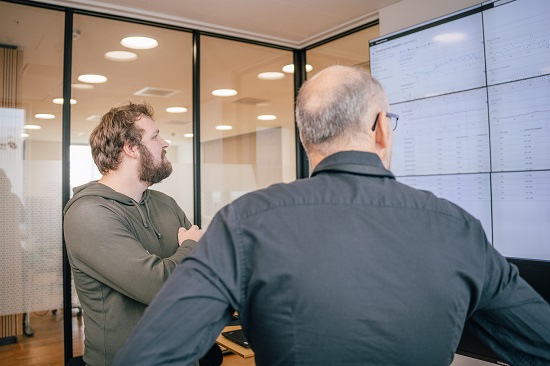 4. Sustainability
It's estimated that manufacturing accounts for around one fifth of global carbon emissions. To meet globally agreed targets cutting emissions, doing nothing is not an option. However, for manufacturers, it's not just about net-zero. Sustainability can also bring business benefits. Think about it. More energy-efficient manufacturing processes can cut energy costs, and optimised logistics can reduce fuel consumption (as can a switch to electric vehicles).
With digital supply chains, it's possible to pinpoint where more sustainable solutions can be implemented. This could be anything from reusable materials to transport efficiencies. By increasing transparency within your supply chain, and sharing data on emissions, an effective document management solution can provide a window into the sustainability credentials of your manufacturing operations.
5. Digital transformation
With technology moving at such a rapid pace, it can be hard to keep up. For that reason, digital transformation within manufacturing itself can quickly become a challenge. Machines generate huge amounts of data. This data, collected and analysed in the right way, can help optimise the performance of equipment, extend its lifetime, and help mitigate potential downtime thanks to predictive maintenance.
As manufacturing becomes increasingly connected via sensors, and Internet of Things (IoT) devices, manufacturers need better oversight and control in order to generate meaningful insights that can drive efficiencies, and enhance performance. That's where effective document and information management can play a vital role.
The future of manufacturing
These might be challenging times for manufacturers, but technology can provide long term solutions which help their day-to-day operations to become more efficient, cost-effective, and sustainable. Better access to information can help improve supply chain visibility, increase knowledge sharing, and support quality assurance.
WorkPoint is an integrated platform for business solutions in manufacturing