How Microsoft Teams can be effective in Manufacturing
Whilst working from home has become a permanent feature of most office-based roles, it's not an option for workers on the factory floor. With back office staff increasingly working remotely, the manufacturing industry needs solutions to accommodate hybrid working environments.
Right now, manufacturers are transforming the way they operate with a geographically dispersed workforce. Front and centre of this transformation is the need for a robust and versatile collaboration and communication platform that not only connects production lines with the back office, but also supply chains and customers. That's where Microsoft Teams comes in.
Quality and safety
Every manufacturer has standard operating procedures (SOPs) built around safety and quality regulations. These instructions help frontline workers to perform everyday manufacturing tasks whilst mitigating potential safety risks. To ensure compliance, consistency and quality, SOPs need to be accessible for everyone required to follow them.
People often think of Teams in terms of the communication channels it provides. But it's also a knowledge centre. Equipped with mobile devices, frontline workers can access the documentation they need, when they need it the most. Most importantly, when SOPs are updated, everyone can access and view the latest version. When integrated with WorkPoint, Teams can also be used by Quality Assurance to track nonconformities and compliance issues.
Scheduling shifts
Outside their routine tasks, frontline factory workers need visibility over things like their shift patterns and time off, alongside the ability to perform tasks like clocking in and out. Manual processes for changing shifts, requesting to work open shifts, and clocking in and out, not only take time, they're also wide open to human error. This can cause delays between requests going in and approvals being made.
It's possible to handle all of these things and more by using the Shifts schedule management tool in Microsoft Teams. It's a centralised portal for everything related to shift work and allows users to manage their working patterns, swap shifts, request leave, approve leave, and share schedules so that everyone on the team has the latest information.
Training and development
In a constantly-changing environment, it's important that frontline workers have access to the latest information, whether that's procedural guidance, new legislation, or training materials around new equipment. When learning resources come from multiple content providers, it can be a challenge to curate and share relevant content, especially when your workforce isn't desk-based.
Teams incorporates Viva Learning, a one-stop for all learning content. Alongside learning resources from Microsoft and LinkedIn, it can also host in-house training materials as well as content from third-party providers. With everything in one place, it's easy for workers to upskill and adapt quickly in rapidly-changing manufacturing environments.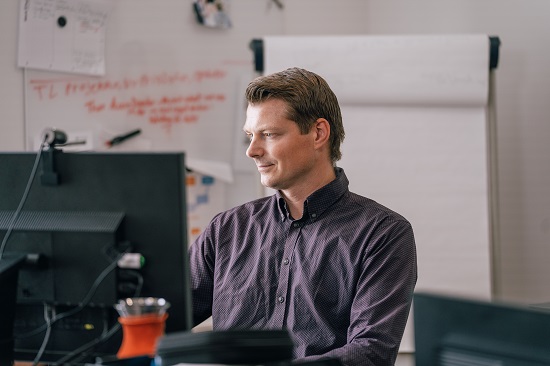 Asset management
Managing assets throughout the full lifecycle of a product – and optimising them – is no easy feat. From ideation through product development to product manufacturing and distribution, there are multiple moving parts. With so much associated data, there's the potential to analyse it to surface opportunities for optimising production lines, and also to mitigate potential issues, such as downtime, via predictive maintenance.
Getting the best value from tangible assets can be difficult without full visibility over things like operation, maintenance, and upgrades. WorkPoint provides a centralized dashboard over Teams, so you have complete transparency over documentation and data through a single pane of glass.
Collaborative working
Dealing with multiple suppliers, there's a pressing need for manufacturers to handle contracts efficiently and effectively. Emailing documents back and forth can lead to various versions and uncertainty around the most up-to-date information. Being able to share contracts and work on them collaboratively, means that everyone is working in the latest version of the document, and they're literally on the same page.
Combining WorkPoint with Teams enables your procurement and finance teams to create contracts, manage online approvals, and see who's made changes with revision flows. The people working on the contracts might be geographically dispersed, but their communication and collaboration are centralized in Teams. At the same time, by setting relevant access controls in WorkPoint, it's easy to keep contractual information secure, so that only the relevant people have access.
Complementing Teams with WorkPoint
By integrating WorkPoint with Teams, manufacturers can manage their contracts, and quality assurance more efficiently by adding a layer of structure over documentation, from contracts with suppliers to standard operating procedures.
Keeping documentation, projects, and contracts in one secure and accessible place provides transparency and efficiency in fast-paced manufacturing environments. Teams is one place to get everything done, and WorkPoint is a bridge between all applications, empowering manufacturers to operate as agile, flexible, and innovative businesses.
Interested to learn more about using Microsoft Teams to improve your manufacturing operations?