How the right contract management solution can create value for SMBs
As your business grows, so too does the number of internal and external contracts. Manual, paper-based approaches to contract management might be possible in the very early days, but when your business expands, and your finance- and procurement contracts start to mount up, you can quickly lose oversight.
Renewals and deadlines can be easily missed and finding the right information at the right time can become a challenge – causing unnecessary delays or perhaps even leading to unresolved disputes over contracts. That's why the right contract management solution can make a big difference to small and medium-sized businesses (SMBs).
Since 1991, WorkPoint and Microsoft business partner JCD have been delivering complete IT solutions. Their team of over 70 specialists works closely with SMBs, companies with between 30 and 200 users, helping them to improve daily operations and become more efficient as part of a modern workplace.
In this blog post, Sales Manager, Nikolaj Guldhammer, identifies some key challenges around contract management in SMBs, and then discloses some of the tried and tested approaches for overcoming them.
A standard solution for all businesses
Before we get started, although we're focusing on contract management, many of these approaches could be applied to other areas as well. That includes HR-management, case management, project management, and CRM. It could be any area where you're struggling to get a handle on documentation and communication in your department or company.
Although every business is different – each with its own unique processes for managing contracts – regardless of scale, contract management tends to follow the same basic principles. So if the processes stay more or less the same, why shouldn't SMBs have access to the same standard solutions as larger enterprises?
In recent times, there's been such a proliferation of cloud-based storage providers that contracts and related documents are frequently scattered across a variety of locations – both in the cloud and 'on-premise'. This digital mess can be hard to clean up without the help of a specialist solution provider. In addition, whilst documents and data might still reside in directories and folders, users expect to find and access documents via search.
Many SMBs are facing the same challenge: how to consolidate documents and data from multiple file-sharing sites into a centralised, searchable, standardised solution. That's where an effective contract management solution can help.
Better control over contracts
Many small and medium-sized businesses are rightly focused on their day-to-day operations and what's coming up tomorrow. When a file sharing solution is working well for a single business unit, there's no obvious need to make a change. But when data and documents are siloed in one area of an organisation, it can create inconsistencies which lead to errors, adversely impacting decision-making. For instance, when relevant users from across the business do not have access to the most recent or accurate version of a contract.
An important consideration for SMBs looking to get a better handle on their contract management, is how to gain and maintain clear oversight without overhauling their entire system and ways of working. This means migrating existing documentation and communication from file sharing services into a single place, so that everything is easily searchable and accessible. In addition, the ideal solution allows SMBs to continue using their favourite tools, whilst getting a fresh and complete overview of their contract portfolio.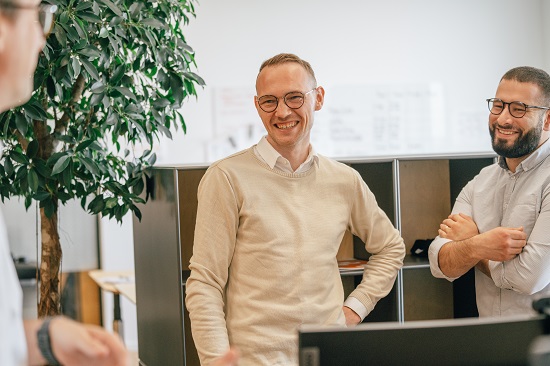 Giving structure to contract management
Contracts can be complex but managing them doesn't need to be complicated. Creating folder after folder to house contractual information might work for an individual. But what happens when they leave the organisation or accidentally misfile important documents?
In today's world, search functionality offers a logical, more intuitive way of managing and accessing contractual data. This approach makes it possible to have a single view of all the relevant data surrounding a particular customer, contact, or contract. Improved visibility provides better oversight over contracts – making managing, finding, and accessing them as well as their associated documents quicker and easier than ever before. Not only that, standard or custom automations can help SMBs find ways to make their workflows more efficient.
The right delivery model for SMBs
In small or medium-sized businesses, there are not always people with the capacity to take on what appears at first glance to be a big IT-project. So it's advisable to educate 3 to 4 users first, to identify any bumps on the road which can then be tackled in the next phase of implementation.
At the same time, any solution needs to be cost-effective and meet budgetary requirements. That's why it's a good idea to insist on a fast-track delivery model, so that you know the exact timeline and upfront cost of implementation. It's advisable to agree on a fixed license price based on what needs to be delivered – so there are no hidden costs further down the line. As with any new IT-solution, a step-by-step walkthrough from your vendor is essential.
Any decent contract management solution should be informed by your preferred naming conventions. So whatever contract management process your company has in place, the software and support should be geared towards it.
What most SMBs typically require is a standard solution which can be easily configured to meet their specific needs, before being successfully rolled out across their entire organization.
Just the start
There's no question that the right digital contract management solution can actually be straightforward for vendors to implement and configure, and just as easy for customers to pick up, use, and make further adjustments to over time. No matter what device they use, everyone can work in the same document using their familiar tools, so there's never a need to learn entirely new ways of working.
WorkPoint provides SMBs with the same level of contract management functionality as large enterprises. And as it seamlessly integrates with the Microsoft 365 stack, users can create, edit, and progress contracts using all their existing tools. That means they can keep on using Teams or Outlook, whilst being able to quickly locate all relevant communications from one place. And when it comes to implementation, JCD has a delivery model to suit your needs.