How to handle digital transformation in Financial Services
Due to a combination of factors, from disruptive financial technologies to the global pandemic, it has never been more important for financial services providers to innovate on all fronts: better customer experience, improved efficiency, and increased security against ever-evolving cyber threats.
In a bid to stay competitive or retain leadership of the market, financial services providers need to re-evaluate and modernise legacy systems, ensuring they have the right tools for the industry, both now and in the future.
What is digital transformation in financial services?
Digital transformation in financial services is the integration of technology to innovate or modify business processes in order to better meet the demands of a changing marketplace. It primarily addresses the need for an enhanced customer experience (CX) and more efficient ways of working to provide better value all round.
Digital transformation looks different for different organisations, but essentially, it's an organisation-wide overhaul of business operations and culture in light of innovative technologies. In financial services, this typically means a shift towards more streamlined and efficient digital services, which make life easier for the customer and service delivery more cost-effective for the business. For example, in banking, it typically involves making previously branch-only services available online.
At the backend, digital transformation involves the integration of IT infrastructure, customer experience platforms, and applications, potentially harnessing technologies such as blockchain, artificial intelligence (AI), and machine learning (ML) to find efficiency through automation.
How technology is transforming financial services
Not so long ago, we were talking about digitization – the shift from physical documents to digital ones – digital files and folders replacing paper documents and ring binders. Then came digitalization, the process of transferring paper-based workflows to digital ones. In essence, nothing changed except that traditional processes were now quicker.
Digital transformation goes one step further by enabling companies to re-evaluate how things get done across the entire organisation, leveraging the potential of new technology. In the process, it opens up the possibility for new business models, and even entirely new businesses due to the wealth of available data.
In financial services, digital transformation also automates repetitive tasks, freeing up staff for work which creates better value for both the business and the customer.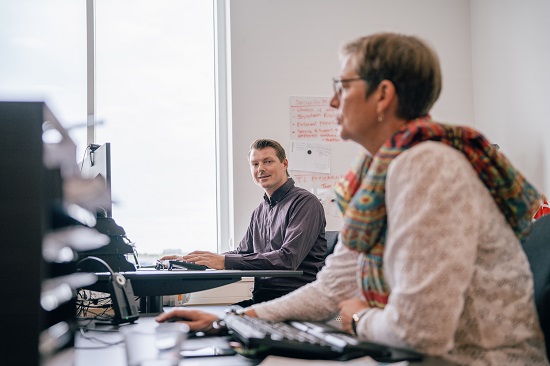 Support digital transformation with Modern Finance
Microsoft's Modern Finance initiative is designed to help financial services providers deliver impact across a range of functions as part of their wider program of digital transformation. It provides a four pillar approach to digital transformation in the sector:
Financial & Reporting Analysis: increasing productivity and insight
Strategy & Forecasting: using insights to improve strategic decision-making
Business Process Automation: driving efficiencies through automations
Risk & Compliance: mitigating and controlling risk
In addition to this, in 2021 Microsoft launched the Microsoft Cloud for Financial Services to help financial services companies find innovative solutions to sustainable growth by optimizing their processes and optimizing customer experiences.
The future of financial services
No matter what the future of financial services looks like, by providing a layer of clarity and sanity over documents, data, colleagues, and clients, WorkPoint fully supports new ways of working. It enables you to streamline workflows with efficient document management, alongside real-time access designed for always-on finance institutions.
And the best part? WorkPoint seamlessly integrates with your existing Microsoft 365 tools, so straight out of the box it feels instantly familiar. Not only that, it includes ready-made modules specifically designed for the financial services sector, so there's little to no learning curve, and no coding required.
Do you want to see how WorkPoint can help digitally transform your financial services?