The simple business benefits of an integrated IT solution
Large and complex organisations no longer have to be locked into expensive, restrictive enterprise resource planning (ERP) systems – legacy software that makes business process optimisation and uptake of new technologies difficult or even impossible. Modern solutions like Microsoft Dynamics 365 mean enterprises can take a more integrated, streamlined, as well as dynamic approach to document and process management.
With over 15 years of experience in the Microsoft portfolio, the founder and managing partner of Simplitize, Jesper Kjærsgaard, started the company in 2019 with the aim of delivering complete enterprise solutions for businesses in Denmark. From document management to customer relationship management (CRM), Simplitize implements value-creating business solutions using WorkPoint 365. Integration is at the core of what Simplitize does, especially when it comes to complex organisations that have a Microsoft strategy, handle thousands of documents, and are looking to strengthen their workflows.
Jesper shares his industry insight into some of the challenges faced by large and complex organisations and the benefits that an integrated Microsoft-based solution can bring.
Complex challenges
Organisations don't get much more complex than a commercial port – and the Port of Aarhus is Denmark's largest. As well as handling approximately 65% of the nation's shipping containers, and over 4 million ferry passengers each year, the port is home to around 150 companies and 10,000 jobs. So, you can probably imagine the sheer complexity and scale of document handling involved – combined with the data security required.
Unsurprisingly, the port handles thousands of documents per year in respect of customers, suppliers, and partners. This includes leasing contracts, service agreements, and additional documents associated with their assets, like cranes, boats, and cars. This gets even more complicated when you consider all the different components associated with these assets and their related service agreements.
The port also holds documents in relation to the buildings – such as warehouses which are leased to businesses – and building developments, including new ferry terminals. It goes without saying that the port also has to track when all these agreements and leases end, so they can negotiate new ones before they expire. With so many assets in their inventory and projects in the pipeline, clear oversight and control over documents are business-critical for the port.
When Simplitize first began to collaborate with the Port of Aarhus, WorkPoint were brought in to create an integrated solution, taking huge volumes of siloed documents and data and creating one solution to be accessed by over 100 employees in Dynamics.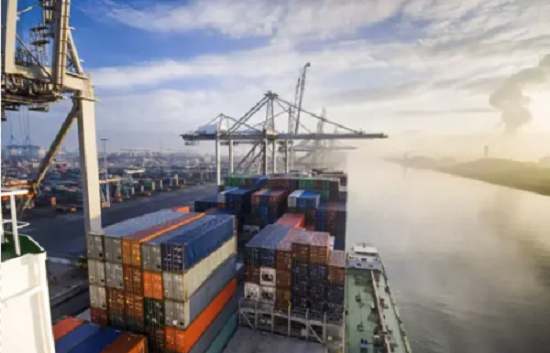 Simple solutions
Like many of WorkPoint's implementations, the process began with document management. To achieve this, the first solution was a WorkPoint platform integrated with their ERP (Microsoft Dynamics AX). Connected via a gateway in Microsoft 365, document data was freed up to be accessed and shared across the organisation, subject to security protocols – making it easier to compile invoices and other documents.
Removing the previous departmental silos has meant that users can now have ownership of documents by subject – one relevant to them – building leases, for example. Organising documents and document ownership in this way means that the enterprise is no longer separated into different departmental drives.
Now, information has an integrated structure across the entire organisation, so that people who need to access a certain type of document can do so easily. Security can also be controlled by setting security levels and limiting access to the documents themselves rather than the folder in which they reside. This has created a strategic layer over the entire organisation, aligned to specific business needs.
Once well-structured document management was in place, we drilled down to understand specific processes, stages, and tasks associated with particular workflows. Integrated with the Microsoft stack, WorkPoint now provides access and oversight in a familiar environment. Moreover, it removes the need for custom coding to create the port's data model.
And the potential has quickly led to exciting opportunities. For example, we created an app for the crane operators to view all the relevant documents related to the specific crane they're working in. In addition, for those 'out in the field' around the port, they can now access the documents they need when they need them – all from a smartphone.
The impact of integration
When the Port of Aarhus saw the versatility and scope of WorkPoint to enhance SharePoint and their document and process management, they soon realized the potential to integrate other aspects of their business.
So over two years, and with the help of Simplitize, the Port of Aarhus began a journey of digital transformation. The WorkPoint platform has given the Port of Aarhus complete and automatic scalability, so as the business continues to grow, they can add more companies and contracts with ease.
Whilst every business is different, with its own needs, integration of this magnitude has applications across multiple industries. But it's not just a case of 'one size fits all. Simplitze recognises the importance of understanding and taking the right approach when implementing WorkPoint to deliver the best outcomes for customers, based on their specific business needs. In essence, delivering what they need to do business better, as opposed to what might be perceived as being needed.
Taking a strategic approach to integrating WorkPoint with SharePoint and the rest of the Microsoft stack, helps Simplitize build the right solution and give customers the right tools for the job. The legacy of complex (or even chaotic) file structures can be transformed by a lightweight subject-based approach to organisation, more in line with the way the human brain organises data, and therefore more intuitive for humans to use.
And that's got to be better for business.
Did you find the case about the Port of Aarhus interesting?