How document and data centralisation can lead to process optimisation
Regardless of whether you're a two-person start-up or a multinational corporation, bringing digital maturity to an organisation through digital transformation can seem like a hugely complex and overwhelming task. 
But by adding a layer of structure and organisation over your documents and data, you can start to create more, do more, and actually take better control of your business by beginning to optimise your workflows.
The foresight of oversight
Whether as a management decision or the result of a review or audit, getting the small details right can have a huge impact on your business. Being able to locate and access the right information quickly and securely when you need it most is important for any business, from construction companies to law firms. 
With data flowing into your organisation through a variety of channels, such as email, the ability to associate information relating with a particular case or project is vital – especially the point of contacts within your business leaves or multiple people are engaged with one project. When you consider the amount of information that might be associated with a specific project, having the right data accessible becomes business critical. 
Automating to optimise processes 
Centralised and organised data creates opportunities for the automation of repetitive tasks, freeing up employees for activities which add more value to your business. In turn, automation can help to reduce the potential for human error – whether that's an input error in data entry or the misfiling of a document. 
By automating day-to-day processes, businesses can save time. Take construction companies, for instance. Project Managers spend huge amounts of time on administrative paperwork, whether that's filling out a paper form or completing information in a spreadsheet. These time-intensive tasks – which some Project Managers estimate to be 40% of their time – can be countered by effective automations, which leaves them available for more meaningful work.
Catching up with cloud-based companies
Couple cloud technology with better visibility of documents and data, and you create the possibility to refine workflows across your organisation. And when you do that, you can also create a more personalised experience for your customers.
This is where newer companies can sometimes have the edge over their more established rivals. Cloud-native businesses have versatility and flexibility baked in from their inception. Older, more established rivals may have legacy systems to contend with, which require complex migrations in order to leverage the advantages of cloud and/or edge technologies.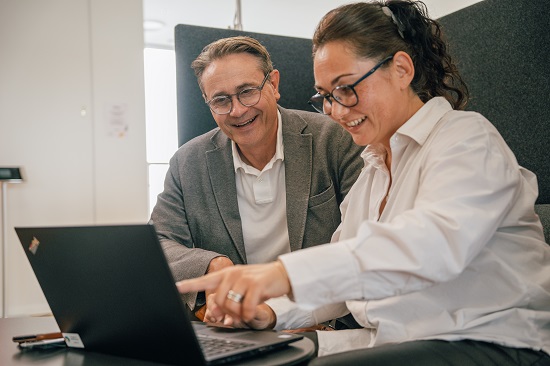 Using data to enhance customer experience
Retail banking is one sector which utilizes data to enhance the customer experience. In terms of collecting customer data, banks have a head start on most industries – they've been doing it for years. Being data rich is one thing – how you leverage that data to create customer value is another.
For example, some banks use voice recognition and machine learning technology to identify and process keywords. If a customer uses that keyword, it automatically triggers a process which gives the call handler information to offer additional products or services that the customer might be interested in.  
Imagine a customer calls a bank to ask about using their credit card abroad. They mention the word 'travel' and the call handler is given information about travel insurance products, currency exchanger offers and so on which they can pass on to the customer to create a unique and personalised experience. 
Data that adds customer appeal 
Having a centralised and accessible system for organising data enables organisations to get the best from the data they have. With the right system in place, it's possible to optimise processes that add customer value and business value at the same time.
Centralising data, for optimisation of processes, can help businesses to stay competitive by helping them be as appealing as possible to potential customers. So, a data and document management solution, like WorkPoint, can actually help businesses empower their employees to deliver better customer service. 
This is the third blog in our series on data-driven insights. You might also like: